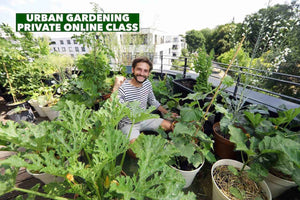 Regular price
Urban Gardening : Private Online Class
---
One hour online private gardening class (in French or English) to help you grow your own food on your balcony/terrace/rooftop.  
You can choose from three different class : 
💚 Introduction to Urban Gardening : I will share with you in one hour all the basics you need to know to start gardening and what you can grow depending on your growing space, seasons & climate. 
💚 One hour Q&A : I'm here to answer all specific questions you may have around specific varieties, potting soil mix, compost making, bio-fertilizer, container gardening, water management etc...
💚 Consulting adapted to your growing space : Prior to the class, you can share with me pictures & videos of your growing space, so that I can advise on how to design, organize & optimize your growing space.
On top this hour, you will also receive after the session the digital version of my "E-Book - Easy Guide to Start Growing your Food" for free!
Have a look at the reviews below to give you an idea about the quality of service I will provide to you.
Once you proceed to checkout & payment, I will contact you to set-up the online class via Zoom or Google Meet.
Speak soon to talk together about gardening!